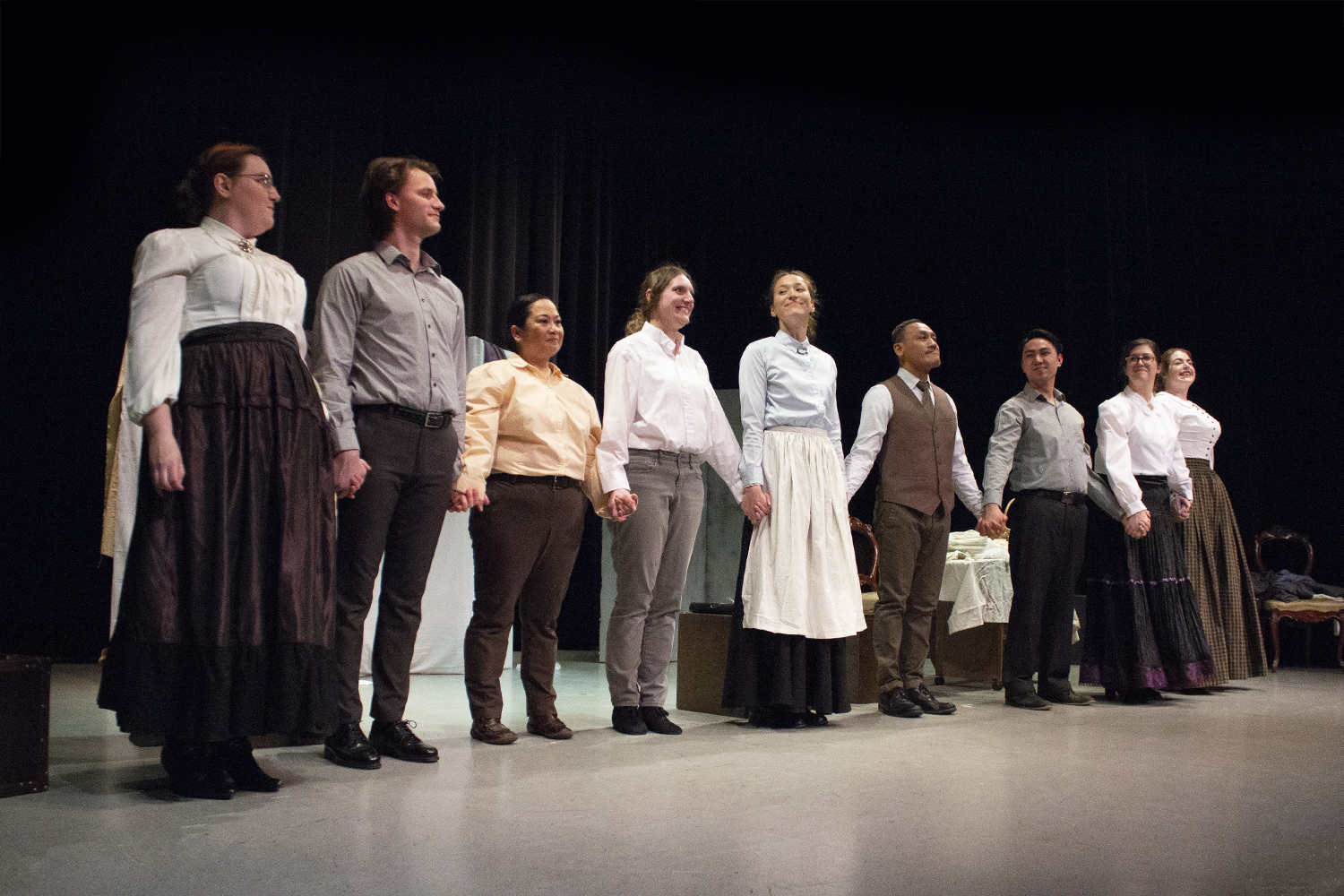 Nightingale performance, Everett Community College, February, 2019
Dates:  Monday and Tuesday, August 12 & 13, beginning at 6pm (in half-hour time-slots).  Tuesday will primarily be for callbacks and for anyone who cannot come on Monday.
Location:  Theatre Puget Sound, Seattle, Theatre4 (4th floor)
Located in the Armory (formerly the Center House), downtown, in the middle of the Seattle Center.  The Armory is directly west of EMP and directly south of Memorial Stadium. It also houses the food court, Seattle Children's Museum, and the Center Theatre.  The elevator is located at the North entrance.
Audition Requirements:  Please prepare 16-32 bars (or up to one minute) of a song from the classic musical theater canon; bring sheet music for the pianist. Bring resume and headshot.
Video auditions also accepted: Email HEARTS with video or link to a video (16-32 bars or up to one minute of a song) plus resume and headshot.
Cast/Characters Needed:  All roles are equitably open to actors of all ethnic backgrounds and gender identities.  British dialect not required.  Actors must be able to sing and move well, and project vocally in multiple types of venues.
ROLES:
Florence Nightingale – Mezzo Soprano, plays ages 19-36
8 Ensemble Singers - Each play multiple roles; various ages & character types.  The music asks for four treble clef voices and four bass clef voices.  The history-based expectation of gender expression for these characters tends to split toward four female and four male actors, but actors of all gender identities will be fully considered, based on vocal range.
Monetary compensation:  Actors will be paid a stipend of $575 for the entire run of shows, end of January through mid-May (11-13 total performances), plus $50@ for additional performances (TBA).
Although we much prefer actors who can commit to the entire run, actors with partial availability or varying schedules will also be considered, provided that information is discussed prior to rehearsals.
Schedule:  Rehearsals will primarily be in West Seattle, approx. 2-3 per week throughout Dec. 2019 and Jan. 2020 (schedule is TBA).
Performances will begin in late January and continue in 3 different Tour sessions through mid-May.  Performances will take place at various venues in the Puget Sound region, at Lake Chelan, at two Seattle theaters, West of Lenin & Youngstown Cultural Arts Center, and other venues.
To schedule an audition and for more information contact HEARTS: Health & Arts: