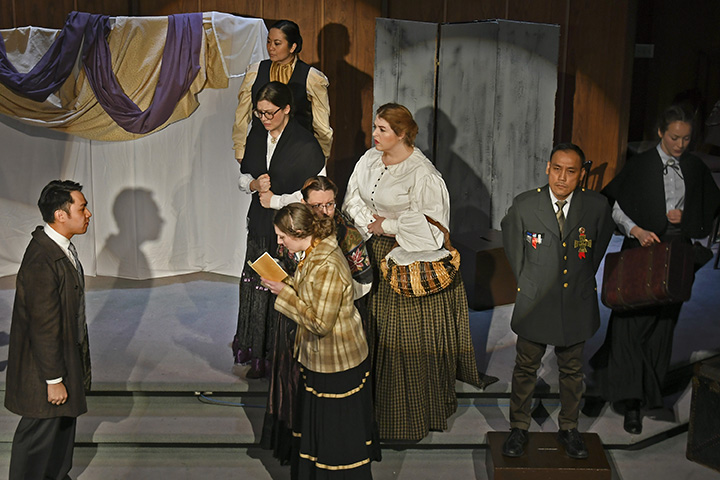 Admiral Congregational United Church of Christ, Seattle, Washington
Admiral Church is a place where God is still speaking.  Sunday services are at 10:30am; other events include: Bible Studies, Film Series, Choir, and 12-step groups.  No matter who you are or where you are on life's journey, you are welcome here!  Admiral Church hosted a staged reading of Nightingale in 2018 and a full production in 2019.
Everett Community College, Nursing Program
The Department of Nursing offers a quality education for students to learn to provide compassionate, patient-centered care to individuals, families, and population groups, and to practice collaboratively with other members of a healthcare team.  EvCC Student Nursing Organization and Drama Club hosted a performance of Nightingale in February, 2019.
https://www.everettcc.edu/programs/health-safety/nursing
The Nightingale Initiative for Global Health
Often called 'NIGH', this organization is a grassroots-to-global catalytic movement created — in Florence Nightingale's name — to keep her flame and bright spirit beaming throughout the 21st century and beyond.
Providence Mount St. Vincent, Seattle, Washington
Providence Mount St. Vincent (The Mount) is a vibrant and innovative living care community for older adults that celebrates life, living and individual capability.  The Mount hosted a staged reading of Nightingale, followed by a Nurse Recognition Reception in September, 2018.
http://www.providence.org/themount
University of Washington Bothell, School of Nursing & Health Studies
The School of Nursing and Health studies offers three degree programs and is committed to supporting and improving the health of diverse communities through excellence and innovation in education, scholarship, leadership and service.  UWB Nursing & Health Studies Student Association hosted a performance of Nightingale in March, 2019.
Washington Nurses Association
Washington State Nurses Association is the leading voice and advocate for nurses in Washington state, providing representation, resources and education that allow nurses to reach their full professional potential and focus on caring for patients.  WSNA sponsored staged readings of Nightingale in 2010 and the First Tour 2019.
Women of Wisdom Foundation
Women of Wisdom empowers the feminine dreams and spirits within all of us through authentic, intimate, transformative, and healing experiences where we share our stories, acknowledge our wisdom and transform our personal and collective consciousness.  WOW hosted a performance of Nightingale in March, 2019.
https://www.womenofwisdom.org/
Add your organization here
HEARTS is committed to creating connections between people and organizations in the arts & health communities.  Contact us to add your organization's information on our Resources page.